Metal Tube Rotameter With Alarm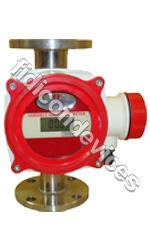 Metal Tube Rotameter With Alarm
Product Description
Widely used to measure flow rate of translucent & opaque liquid and gases under high temperature, the provided Metal Tube Rotameter With Alarm is highly demanded in the market. By utilizing quality-tested raw material, this rotameter is manufactured with the aid of contemporary techniques. The offered rotameter is also checked on various quality aspects to ensure its flawlessness. Apart from this, the provided Metal Tube Rotameter With Alarm is available with us at rock bottom prices.
Key Points:

Two Tone Powder Coated Excellent Finish
Flow Range Between 25 To 63000 LPH
No Threads In Body, Avoids Corrosion
Face To Face Distance : 250 mm.
Heavy Duty Design With Maximum Visibility
Single Piece ( Jointless ) PTFE / PP Claded Body
Various Material Of Construction
Suitable For In-Line Installation
Measuring Span - 1:10
Magnet :- Alnico
Easy To Maintain
Accuracy : +/- 2% Of Full Scale
Line Size From 15 NB To 100 NB
Angular Scale

Technical Details:
Metal Tube Rotameter (Model No. FDI-MTR-201)
It is Suitable For Measuring Flow Rate For Translucent Opaque Liquid, Gases Under High Temperature & Pressure
Material of Const
C.S. / S.S..304, S.S.316 / PP /
Line Size
15mm NB to 200mmNB
Flow Range
100 to 100,000 LPH of water at
ambient temp. 30 to 7000 NM/Hr
off air at NPT
Accuracy
+1.5 % full scale reading
Metal Tube Rotameter Accessories
Steam jacketing
High & low flow alarms
4-20mA transmitter
out put
Digital Indicator,
Totaliser.
NB
Model No
With PTFE float LPH
With SS 316 Float LPH
Max Press Drop MMWC
Test Press kg/cm2
15
PM - 1
0
2.5-25
1000
20
PM - 2
2.5-25
4-40
PM - 3
4-40
6.5-65
PM - 4
6.5-65
10-100
PM - 5
10-100
16-160
PM - 6
16-160
25-250
PM - 7
25-250
40-400
PM - 8
40-400
63-630
25
PM - 9
63-630
100-1000
1000
20
PM - 10
100-1000
160-1600
PM - 11
160-1600
250-2500
PM - 12
250-2500
400-4000
50
PM - 13
400-4000
630-6300
1200
20
PM - 14
630-6300
1000-10000
PM - 15
1000-10000
1600-16000
80
PM - 16
1600-16000
2500-25000
1500
20
PM - 17
2500-25000
4000-40000
100
PM - 18
4000-40000
6300-63000
1500
20