Detonation Flame Arrestor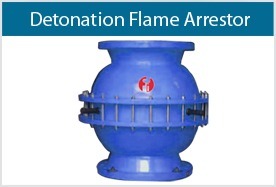 Detonation Flame Arrestor
Product Description
Detonation Flame Arrestor/Arrester

Detonation flame arrestor possess the heat transmission ability and structural design to endure all the active conditions of flame proliferation and still halt the blaze. The detonation flame arrestor is the definitive flame discontinuing product and is taken into use when the blaze can be in any of the detonation conditions.

Applications:

Fidicon Detonation Flame Arresters offer protection in contradiction of flame spread in piping organizations that are huge or have long run-up remoteness. Fidicon design is exclusive in the aptitude to offer larger flame frequencies that permit for less recurrent plugging and convenient cleaning when service is obligatoryboth of which interpret to less down time.

FIDICON Detonation Flame Arrestors are two directional and confirmed to stop an exploded flammable vapor mixture imminent from either way and traveling at supersonic or subsonic rapidity. Our original element provides maximum flow to compression drop features.

Features & Benefits:

Connection: flanged
Housing material: stainless steel and carbon steel
Size: 1/2 to 16
Special material and defensive coatings offered.
Detonation flame arrestors are planned for unbalanced detonations.
Detachable element design permits for convenient cleaning, easy inspection, and replacement.
It also offers maximum flow, easy cleaning, less pressure drop, less maintenance and less clogging.
Material of Construction:
Aluminium, carbon steel, 304SS, 316SS, Hastelloy.

Approval:
Portotype testing as CMRI standard.